Bird and Blend Tea Co Nottingham Shop
Whether you want to stock up your cupboard or just talk tea, come on in - our mixologists can't wait to see you again. And on your trip to the high street, why not pop in & visit your other favourite independent businesses too!
Bird & Blend's first store in the Midlands! Bird & Blend was actually born in Nottingham back in 2013 when founder Krisi moved back in with her mum to get started! 
Our amazing Tea Mixologists can show you our famous wall of tea with 100 loose leaf blends, with blends ranging from our award winning Sticky Chai
, 
Strawberry Lemonade
 right through to our 
Great British Cuppa
. Our Tea Mixologists can even knock up an iced tea or tea latte.
Sign up to our newsletter to see what is going on in store:
Our Nottingham store has moved! Take a look at our new address!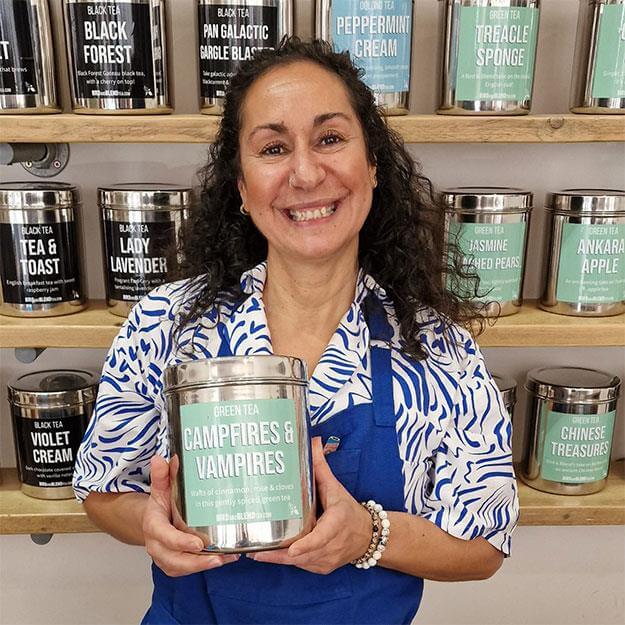 Eva & team can't wait to meet you...
Hi I'm Eva & absolutely love managing Nottingham shop. There's so much to learn & discover! I love tea (favourite is Campfire & Vampires) & coffee so absolutely love all the coffee flavoured teas. We are great bunch of people who are passionate about what we sell & love our customers.
Our store is on the historic Victoria Street, surrounded by amazing buildings. The city is a real eclectic mix of Independents, great bars & cafés, so we are never far away from good food & drinks.
Here is what events are happening in our Nottingham store...
Introducing our 'signature' Nottingham loose leaf tea
Did you know that a loose leaf tea flavour is created for each store and for our Nottingham store it is Candy Floss at the Fair. Sherwood's fruits of the forest tea with juicy berry & nettle greens! Want to explore our other unique store blends? Click here.
What our Teabirds say about this loose leaf tea blend:
"A delectable insight into the fruity bramble of Sherwood Forest, deliciously seeped in fuzzy pollen with warming notes of zesty berries"